History Continues: Preparing His Home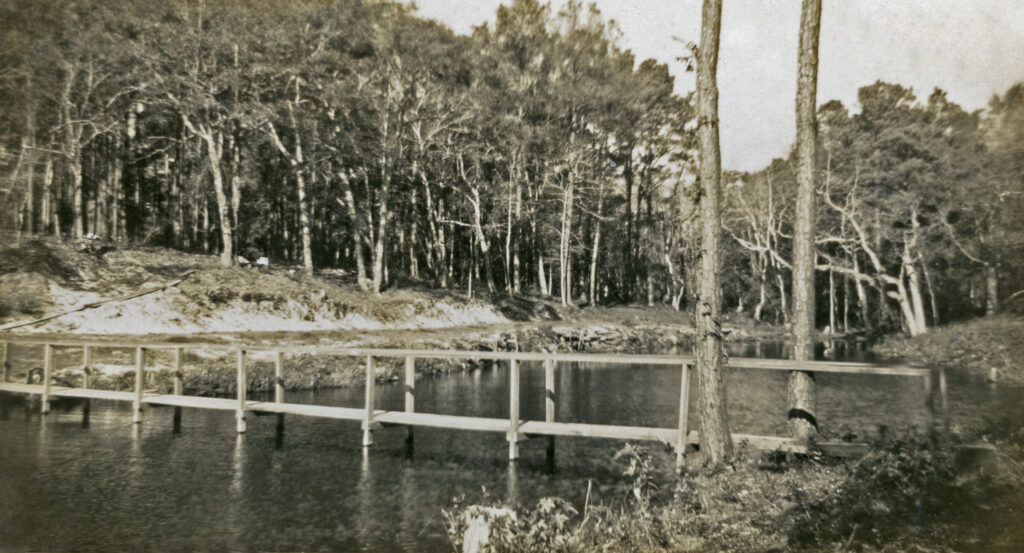 The land, owned by Myrtle Beach Farms Company where Elizabeth's father, Simeon Chapin, was a partner, met the first four of Meher Baba's conditions. Elizabeth's father, who had met Meher Baba and had deep respect for Elizabeth's spiritual quest, was eventually able to obtain the property and give it to her; she then offered it with love to Baba, fulfilling the final condition. Baba sanctioned the gift, and in 1944 work began to prepare the Center which would become His "home in the West."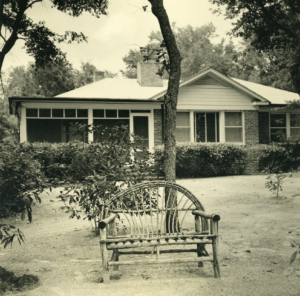 Baba Himself directed many details of the Center's development, and every phase of the work was done with the thought of pleasing Him. There are incredible stories of this period— of somehow procuring buildings and materials during wartime, including turning an old mule barn into a love-filled gathering place; or of working to build a house for Baba, the floor plan for which happened to be labeled "the Perfect House."
On Meher Baba's first visit He expressed His pleasure with all that was done to establish the Center, saying "I am so happy to be here, and most of all I am deeply touched with the love and devotion shown by both Elizabeth and Norina throughout the past years in preparing such a unique spot for my work and comfort… of all the homes I have visited, this is the home that I love the best, because it was given to me and built for me with such love." After a pause he added, "I never leave. Remember, I do not leave, because this is my home." 
Meher Baba's sister Mani describes her first impressions of the Center in 1952: "On our arrival I felt that Baba had already been there. His presence was so strong and I realized Baba had blessed the Center long before. Every nook had so much of His Presence—on the bridges, under the trees, at the beach, in the Barn, by the lake."
That first visit was for a month during April and May, 1952. It was an intimate period with Baba when many westerners who would become His long-time lovers met Him for the first time. 
Meher Baba's second visit to the Meher Center was in 1956, for six days at the end of July. During that stay Baba was radiant and full of vitality, walking throughout the Center, and engaging all those He met.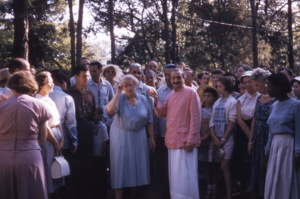 Hundreds of people came to be with Him and the Center's official dedication ceremony was held during an "open day", on July 27.
Meher Baba's third visit to Meher Center, for eleven days in May, 1958, was noticeably different from His previous two visits. Due to a painful hip injury, Baba required assistance when walking even short distances, and most of the time He was carried in a chair or driven around the Center in a car. Despite this, Baba poured out His love as He always did, and there were many moments of joy, fun and companionship in addition to the times of seriousness and suffering.
Before He departed the Center, Meher Baba told those gathered around Him that this would be His last visit. Elizabeth Patterson recalled that this statement prompted her to ask Baba, "Then who can come to the Center and stay here?" and He responded, "All those who love and follow me, and those who know of me and want to know more."
In a 1977 interview, Elizabeth described Meher Center's unique legacy: "The Center was a beautiful place of nature before Baba came. But after He came, it has a 'plus' quality that's indescribable. It's spiritual."
Just as Baba's lovers gathered at the Center to be with Him in the 1950's, many thousands of pilgrims have continued to come to the Center to be in His presence over the decades that followed. Meher Spiritual Center remains, as Meher Baba said it would, a place where He stays and is at home, where all can come to meet Him; a "place of pilgrimage for all time" imbued with His presence and inspired by His remembrance.